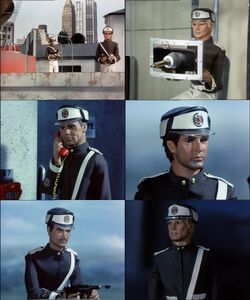 The Spectrum Security Guards are personnel of the Spectrum Organisation who are customarily assigned to guard either the safety of an intended Mysteron human target or the security of Spectrum ground bases.
These guards are mainly seen guarding the inside and outside of any of the various world-wide Spectrum Maximum Security Buildings and other Spectrum bases or keeping a chosen Spectrum motorcade safe. They are customarily junior Spectrum personnel, and as such, they generally wear full dress uniforms rather than colour-coded uniforms.
Appearances
[
]
The guards have been seen in four instalments: "The Mysterons", "Winged Assassin", "The Heart of New York", and "Codename Europa". NOTE: They were used as Multiple Duty Puppets with some appearing more than once.