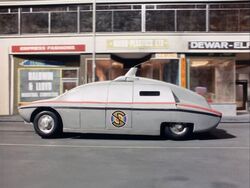 The Spectrum Maximum Security Vehicle, or MSV, is a motorised Spectrum vehicle, used mainly for the protection of important personnel whom the Spectrum Organisation has been assigned to guard. It is seen mainly in Captain Scarlet and the Mysterons.
Usage
[
]
The Spectrum Maximum Security Vehicle has been used extensively (presumably before the events of the first instalment took place) to protect dignitaries from assassination attempts.
It was used in "Winged Assassin" when the Director-General of the United Asian Republic was a Mysteron target. The Mysterons, however, achieved their goal of his assassination, but by a different method.
Technical Data
[
]
Length: 24 feet
Width: 9 feet
Weight: 8 tons
Maximum Speed: 200 mph along with a cruise speed of only 15 mph. Later modifications in 2069, increased the speed to 250 mph.
Seating Capability: 4 (one driver and co-driver, with two passengers)
Fuel Capacity: an unknown amount of fuel in the engine which is equipped with solar-cell energy generator
Construction Material: Fleetonium alloy
Notes
[
]