Jurassic World: Dominion Dominates Fandom Wikis - The Loop
Play Sound
Colonel White is the code name that has been adopted by Charles Gray, the Supreme Commander-In-Chief, or CINCSPEC, of the Spectrum Organisation and the Commanding Officer of its primary command headquarters, which in Captain Scarlet and the Mysterons is the flying aircraft carrier called Cloudbase. A widower with no children and a veteran of duty in the British and World Navies, he also served as Director of the Universal Secret Service's London headquarters. The late Donald Gray provided his character voice in Captain Scarlet and the Mysterons.
In New Captain Scarlet, whose version of him, also CINCSPEC, commands Skybase, this Colonel White has been knighted for his services to "Britannia," probably in "The Most Honourable Order Of Saints Michael And George." This is true of the Hyper-marionation programme; Michael "Mike" Hayley provides his character voice here.
Known background
[
]
The following information is specific to the original programme.
[

]
A native of London, Charlie Gray (as he was then known) grew up with a love of the sea. After earning degrees in computers, navigation, and technology from Norwich University, he enlisted in the British Navy--at a time when Great Britain was tyrannised by an evil military dictatorship.
Throwing his support to the rebels who fought for freedom, Charles (as he had come to be known by this time) saw his efforts rewarded when the military dictatorship was overthrown thanks to him and many other courageous personnel. Transferring to the World Navy, he rose through the ranks to become a very young fleet admiral--then retired unexpectedly to join the Universal Secret Service.
Charles Gray, Secret Service London
[
]
The London headquarters of the Universal Secret Service was honeycombed with moles and double agents at the approximate time when Gray took it over, as was the World Aeronautical Society's United States chapter at the time Adam Svenson (the future Captain Blue) joined it and rose to become its inspector General. But in a very short time, he managed to clean them out of the USS successfully, as Svenson did (at the expense of having to survive three assassination attempts and lose at least one of his friends) as the WAS-US Inspector General. During the time of Gray's tenure as USS London Director, Karen Wainwright (who later became Symphony Angel, one of the Angel Flight pilots of the Spectrum Organisation) became one of his agents.
Colonel White, Spectrum
[
]
Gray had been offered the office of Supreme Director of the Universal Secret Service, but he rejected it in order to accept another post of much greater import: founding Supreme Commander-In-Chief (CINCSPEC) of the new Spectrum Organisation, in which post he adopted the code name of Colonel White.
Charles Gray the man: A life combined of pleasure and duty
[
]
According to the back story that Gerry Anderson and Sylvia Anderson wrote for him, Charles Gray is a widower whose wife died childless, probably whilst miscarrying their first-born son. Since becoming Colonel White, CINCSPEC, the attitudes that he shows towards Captain Scarlet and the Spectrum Angels in the programme's various instalments appear to indicate that he views them as the son (in Captain Scarlet's case) and the daughters (in the cases of all five of the Angels) he never had.
One of the main principles by which Colonel White stands is that whenever following orders, initiative should never be allowed to clash with discipline. In "Manhunt", Colonel White was none too pleased when Symphony Angel violated this principle, and in "White as Snow", he dressed down Captain Scarlet for the same type of insubordination.
A chess player with master's skills and a mystery-novel enthusiast, Gray is believed to be devoting what little time he can spare to writing a mystery novel of his own. His interest in chess apparently helps him tremendously in the Mysteron War, in which he seems to view Spectrum as the "white" side since, after all, it was a panicked, illegal act committed by one of his finest officers, Captain Black, which had actually touched it off in the first place.
Colonel White's Desk
[
]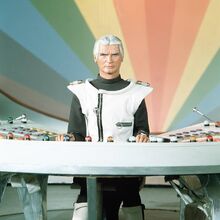 As Spectrum's Commander-In-Chief and Commanding Officer of Cloudbase, Colonel White customarily sits in Cloudbase's main Control Room at a circular desk, in front of a huge LCD screen, to monitor all aspects of the organisation's progress.
His desk is a rotating computer control panel consisting of various buttons and microphones. From this, at the press of a button, Colonel White can contact anyone on Earth from enterprise to individual including his own Spectrum personnel, the World Government and auxiliary forces. Communications can also be opened via Lieutenant Green's communications console.
The multiple LED lights around the desk stand for each of his senior officers and other personnel. They light up whenever he wants to communicate with them and visa-versa. They are as follows:
Red Light: Captain Scarlet
Blue Light: Captain Blue
White Lights: Himself/The Spectrum Angels
Green Light: Lieutenant Green
Black Light: Captain Black
Brown Light: Captain Brown
Grey Light: Captain Grey
Orange Light: Captain Ochre
Magenta Light: Captain Magenta (NOTE: It looks similar to Captain Scarlet's light)
Fawn Light: Doctor Fawn
The other lights are most likely for worldwide ground-based Spectrum Headquarters facilities, the World Government, and other forces.
The screen is used to display diagrams, video images, maps and any other information from the official Spectrum Information Centre. It can also be used to display an image from a caller when using the videophone. If people are entering the control room, at the press of a button from his control desk, up to and including four stools, all of which swivel a full 360 degrees, rise up from the deck for them to sit on when so needed. If and when privacy is needed, Colonel White will press another button that causes a transparent, soundproof screen to rise between the platform upon which his desk is situated and Lieutenant Green's console.
Production information
[
]
Actor Donald Gray provided the character voice of Colonel White (as well as those of the Mysteron controlled Captain Black and the Mysterons themselves) in the original programme. A fellow actor also named Donald Grey changed his name to Charles Grey to avoid confusion, causing him to have the same real name as that of Colonel White.