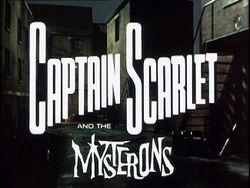 Captain Scarlet and the Mysterons
, often referred to as simply
Captain Scarlet
, is a
science fiction
television
series produced by the
Century 21 Productions
Television company of
Gerry Anderson
,
John Read
,
Reg Hill
and
Sylvia Anderson
. It was first shown in the
United Kingdom
(originally on
ATV
Midlands, but later the whole of the UK) between September 1967 and May 1968. It used puppetry (
Supermarionation
) and scale model special effects.
The series is one of several of popular science-fiction TV adventure series the Andersons produced in the 1960s, beginning with Supercar and followed by Fireball XL5, Stingray, Thunderbirds, Captain Scarlet and the Mysterons, Joe 90, and the little-seen The Secret Service. Captain Scarlet and the Mysterons was the first series made after the international success of Thunderbirds in 1964-66.
Summary
The series takes place in the year 2068. The story begins when Spectrum, the world security organisation monitors strange signals from the planet Mars so one of their top agents Captain Black is assigned to led a team on a Zero X mission to find out. They arrive and start scouring the Martian terrain in a Martian Exploration Vehicle (MEV).
On their surveillance, they discover a complex which is the home to a martian alien intelligence known as The Mysterons. They are originally very pleased to have visitors and precede to welcome them. The Mysterons move their camera towards the MEV to get a closer look, but Captain Black panics when he sees it, mistaking it for a weapon and believing them to be hostile.
He orders Lieutenant Dean to obliterate the complex with the MEV's missiles, totally destroying it. But the Mysterons use their power of reversing matter to reconstruct the complex and vow to take revenge on the Earth for the Zero X team's act of aggression. They take control of Captain Black's mind and make him their primary agent in their war of nerves against Earth.
During this time another agent named Captain Scarlet is killed and reconstructed by the Mysterons for a time to do their bidding. But he is then freed from their control and maintains the ability of retrometabolism making him virtually indestructible. He becomes Spectrum's number one agent in the fight against the Mysterons.
Community content is available under
CC-BY-SA
unless otherwise noted.