Jurassic World: Dominion Dominates Fandom Wikis - The Loop
Play Sound
Captain Ochre is the code name that the Spectrum Organisation has assigned, in Captain Scarlet and the Mysterons, to Richard Fraser, a former Inspections Commander of Detectives in the World Government Police Department, or WGPD, who became the only Spectrum senior officer without an advanced academic degree after he staged his own assassination to conceal his entry into the Spectrum ranks.
In New Captain Scarlet, Captain Ochre is the code name of Elaine McGee, late of Northern Ireland, which includes virtually all of Hibernia Island's province of Ulster.
Rick Fraser in Michigan
[
]
A native of Detroit, the seat of Michigan's Wayne County, Rick Fraser never developed a liking for high school. Instead, he preferred to construct plastic models of aircraft, and it became his hobby. As a result, even though he learned to fly at the age of sixteen, he graduated from high school with too few credits to enrol in any colleges or universities, or even to enlist in the World Army Air Force.
Officer Fraser, WGPD
[
]
It was upon his graduation from the WGPD Police Academy, for which he did qualify, and his receipt of the badge he carried for years afterwards that Fraser discovered that he possessed not only an interest in law enforcement and criminal investigations but also a knack for the same. He did not need long to earn his detective's shield, and he rose quickly through the WGPD ranks to become a highly acclaimed detective. (Fanon sources describe him as growing his bushy brown beard and his heavy brown moustache during this period.)
Inspections Commander
[
]
Fraser rose so quickly through the WGPD ranks, in fact, that he did not need much time to become a full captain of detectives, then the Inspections Commander of the entire United States "Precinct" of the WGPD. During this time, organised cybercrime godfather Patrick Donaghue (who later became Captain Magenta of the Spectrum Organisation) became a thorn in his side.
Captain Ochre, Spectrum
[
]
When he was approached to join the Spectrum Organisation, Inspections Commander Fraser found himself forced to turn down the post of Supreme Commissioner of the WGPD to accept that offer.
Before he joined Spectrum, however, he went out of the WGPD with a bang--and quite literally so, staging his own assassination in a car-bombing on the streets of Unity City, capital of the World Government of Earth. Smuggled out of Unity City, he submitted to extensive cosmetic surgery and, according to fanon, shaved off his thick whiskers to alter his appearance. Those done, he resurfaced to assume the code name of Captain Ochre of the Spectrum Organisation.
Behind the scenes
[
]
In OCS, Captain Ochre's voice was provided by Jeremy Wilkin, who was one of the busiest of the Gerry Anderson repertory actors; only Sylvia Anderson (nee Thamm) compiled more talent credits in Anderson's productions.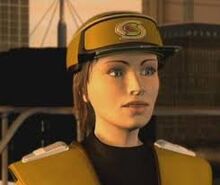 In New Captain Scarlet, Captain Ochre is from Northern Ireland rather than Michigan, is (like NCS's' Lieutenant Green) female rather than male, and has a minor role, only appearing in the final Season 1 instalment. It is possible that she succeeded Captain Yellow, who neither appeared in Season 2 nor had a counterpart in OCS. However, in Season 2, Captain Ochre appeared in 12 instalments, working alongside Captain Grey mainly, and sometimes Captain Blue. In this continuity, her real name is Elaine McGee. Her character voice is provided here by Julia Brahms.