We're Getting Mutants in the MCU - The Loop
Play Sound
Captain Blue is the code name that the Spectrum Organisation has assigned to Adam Svenson, the former Inspector General of the World Aeronautical Society's United States chapter and the oldest son of a wealthy Boston, Massachusetts, financier.
He is Captain Scarlet's closest friend and the second of the two field partners with whom Captain Scarlet has been paired, Captain Brown having been the first.
Known background
[
]
Adam Svenson was born one year after the World Government of Earth was first established. He is a graduate of Harvard University whose degrees include business as well as aeronautics. But his father, a ruthless Boston financier, is convinced that Adam let him down by joining the World Aeronautical Society as a test pilot instead of joining the family business. Be that as it might, Svenson soon became the Inspector General, or Chief Of Security, of the WAS's United States chapter, in which duties he survived three assassination attempts.
Captain Blue, Spectrum
[
]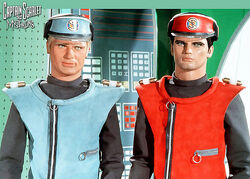 Approximately one year after he joined Spectrum and officially received his code name, Captain Blue was involved in the Mysteron War, and found himself forced to shoot the Mysteronised likeness of his friend and fellow officer, Captain Scarlet, off the London Car-Vu Sky Park Tower to prevent the assassination of World President James Younger.
Captain Blue was later assigned as Captain Scarlet's field partner, after it was discovered that Captain Scarlet had become virtually indestructible, and had thus become Spectrum's most special agent and its greatest asset in in the fight against the Mysterons. Together, he and Captain Scarlet have subsequently become one of the Spectrum Organisation's most effective detachments.
Despite his friend's virtual indestructibility, however, Captain Blue still fears for Captain Scarlet's safety and is always willing to stand by him in any crisis. "Special Assignment" severely tested this commitment, as Captain Scarlet, working undercover and using his real name of Paul Metcalfe, was forced to shoot Captain Blue to avoid blowing his cover--in violation of Spectrum regulations, Metcalfe had gambled away money he could not have spared, and thus been supposedly forced to resign from Spectrum, to unmask Mysteron agents who were under instructions to destroy North America. (Metcalfe shot Captain Blue all right, but with a tranquiliser dart, and he left behind information upon which Captain Blue could take action.)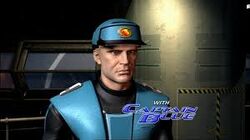 Captain Blue is in nearly every instalment, and he is a very major character as Captain Scarlet's field partner; he is with him in nearly every mission and loyal to him. In "Instrument Of Destruction, Parts One and Two," the first instalment, Captain Blue brings in Captain Scarlet after a long fight and chase back to Spectrum.
This Captain Blue is the West Point alumnus that Captain Scarlet is in the original 1960s series. Robbie Stevens provides the character's voice.
Trivia
[
]
Sculptor Terrence "Terry" Curtis, a member of the team that originally sculpted the super-marionation puppets that the original 1960s series used, gave the Captain Blue puppet a physiognomy that resembled a cross between his own self-portrait in wood and that of George Victor "Edward" Bishop, the actor who provided the character's voice in the programme.
Gallery
[
]