"Noose of Ice" is the twenty-fifth instalment of Gerry Anderson's Captain Scarlet and the Mysterons.
Plot
[
]
The Mysterons' plan is to sabotage Earth's new World Space Fleet. They mean to do this by attacking Hotspot Tower, at the North Pole, location of the only known mine for "tritonium," hardest of known metals. (A new fuel formulation for the World Space Fleet's spacecraft will propel them to speeds so high that their nose cones would overheat to, nay past, the melting point if constructed of any metal other than tritonium.) To this end, they have already taken over Nielsen, the regular maintenance technician of Eskimo Booster Station, by entrapping him outdoors in a blizzard and causing his death of pneumonia.
Captain Scarlet and Captain Blue are sent to the North Pole to investigate and stop the Mysterons from carrying out their threat. They discover that the mine relies on electrical heating elements to stop the sea from freezing around it. Meanwhile at Eskimo Booster Station, the Mysterons direct the Nielsen likeness to disconnect their high-voltage power source, in an attempt to allow the ice to build up destroy the mine and render it useless. Soon the ice begins to build up in a few seconds and begins to crush the tower.
With little time, Captain Scarlet swims outside the tower wearing a heated suit and heads for the booster station. Though the built up ice has weakened the bridge, Scarlet manages to use the SPV to get through safely.
He finds the Nielsen likeness armed with a gun and tells him to surrender, but the Mysteron Agent refuses. However Captain Scarlet manages to get hold of one of the high-voltage power cables and uses it to fatally electrocute the Mysteronised maintenance man. Though Captain Scarlet is shot in the process, he manages to restore the power and Hotspot Tower is saved. However the Mysterons had a partial success as the mine was badly damaged and now out of operation for six months, but Spectrum would still continue the fight.
Notes
[
]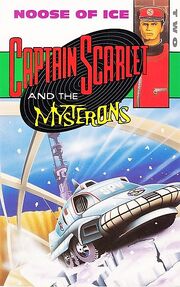 In 1993, the instalment was also a novelisation. It was Volume Two of a four volume book series written by Dave Morris, illustrated by Arkadia and published by Young Corgi. The book had this description on the back:
This is Captain Black relaying instructions from the Mysterons. The Mining complex must be destroyed!
Earth is under attack by the Mysterons. Leading the fight against the Mysterons is one man fate has made indestructible: Captain Scarlet.
Captain Scarlet sets off to the North Pole where a natural source of tritonium - a rare alloy vital of Earth's space programme - is discovered there.
But the Mysterons have attacked, cutting the main power line to the mine. As the sea freezes and a deadly ring of ice slowly closes in, Captain Scarlet faces a race against time to save the complex from total destruction...
An explosive and action-packed adventure based on an episode of the sensational TV series.
—The book's description